Investor Overview
Corporate Profile
Manhattan Associates designs, builds and delivers market-leading Supply Chain Commerce Solutions for its customers around the world. We help drive the commerce revolution with unmatched insight and unrivaled technology, connecting front-end revenue and relationships with back-end execution and efficiency—optimized on a common technology platform. This platform-based approach is enabling leading companies across the globe to get closer to their customers and achieve real-world results.
In addition to our many experts and PhDs, the Manhattan Science Advisory Board brings together thought leaders and international researchers from outstanding academic institutions such as MIT, Columbia University and Georgia Tech to discuss advances in the underlying science of Supply Chain Commerce, address new economic developments and identify fruitful areas of research.
Stock Information
June 22, 2018 4:00 p.m. ET
MANH (Common Stock)
$48.75

0.93
 (1.87%)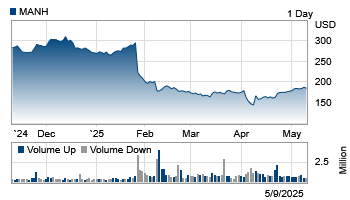 Recent Financial News
Data provided by Nasdaq. Minimum 15 minutes delayed.
Latest Quarterly Results
Upcoming Events